Moscow Stories episode 3
Moscow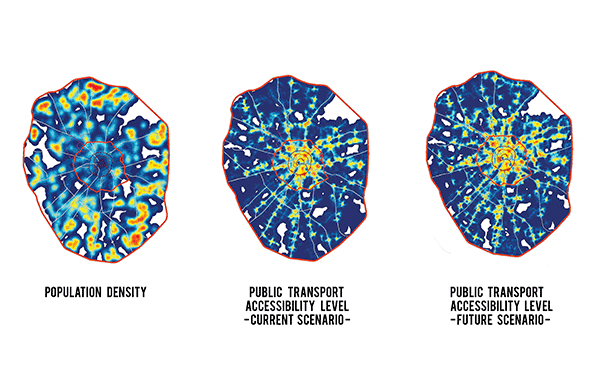 The Hidden Shape of Public Transport. The third episode of the Moscow stories involves a research study carried out during 2013 and presented the same year at the Moscow Urban Forum, thanks to the invitation of its curator and architect Yuri Grigoryan. This study has been also published in the "Archaeology of the periphery" book, the research project led by Grigoryan and consisting – as a key outcome of the forum – in a condensed series of articles aiming to reveal the latent potential of our cities, focusing the attention on the relation between Moscow urban center and its urban fringe, through the lens of many international urbanists.
In recent years, the Moscow conurbation has experienced rapid expansion and transformation. Due to the growth rate of the urban landscape, the city is facing today a loss of identity; it is becoming more and more difficult to control the territorial expansion of the built environment. This ongoing process affects the quality of life that the city itself can offer to its users. Among the several factors that determine the livability of a great modern city, the availability of high quality transport infrastructure certainly plays a primary role; this must be conceived in terms of accessibility to the entire population and the rapid connection between places, maximizing opportunities for citizens and businesses that 'live'—every day—the wider and wider territory.
Moscow is a clear example of a monocentric urban morphology, where both the transport network and the land use distribution are focused on the central part of the city, that is the main attractor. The radial axis system and orbital paths are reflected in the road fabric as well as in public transport. The current transport scheme was planned and developed over time, based on the assumption that all demand for mobility gathered towards the city center. Following these principles, the urbanized territory of Moscow has been shaped into "super-functional blocks", accessible by few roads (characterized by large sections) which serve as connections to the big areas, otherwise inaccessible. Such a configuration clearly affects traffic flow; the limited availability of roads cannot allow for proper vehicular circulation. As a result, the few large connections and rigid patterns of circulation are often congested by immense traffic jams, reflected by longer trip times, slower speeds and increasing vehicular queuing.
PROJECT HIGHLIGHTS
Authors: Federico Parolotto, Francesca Arcuri
The video is the results of an additional investigation that puts Moscow in comparison with other four similar cities worldwide: Istanbul, Sao Paulo, Tokyo and Paris.
Our contribution